I want to take you somewhere very special on the Hamakua Coast. Come with me to see this very special estate.
Just off of the Onomea Scenic Drive sits a magical estate where beauty and craftsmanship reign, awaiting the future owner of this gem of Hawaii.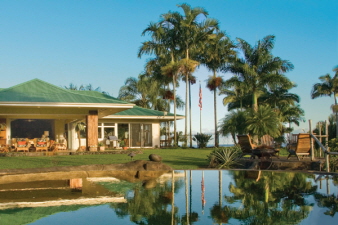 Kawainui Estate is a 14.5 acre dream come true for a gentleman farmer, orchid grower and lover of life in paradise. Come with me as I show you some of the amazing features of this custom estate home.
When you enter the gated drive, immediately you see that there is ample parking and a spectacular entrance to the home. As you pass the citrus and Macadamia Nut Orchards, large specimen palms come into view and then you see a custom piece of artwork which is in fact the massive front door to this palatial tropical home.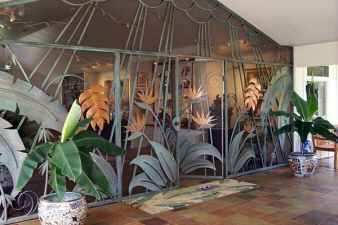 The doors are a huge wall of copper and bronze screens with hand sculpted metal art which mimics the many wild vines found in the pali next to the property.
As you enter through the metal art doors, there is more art and craftsmanship in every direction. This house was crafted with the concept of beauty from nature reflecting in every room. From the vaulted cathedral ceilings to the slate floors there is beauty and light in every part of the living space, which opens up to the outdoors through telescoping doors and screens.
The massive living room has exquisite exotic hardwood display cabinetry as well as many pieces of art & furnishings by master wood artist, Perry Policicchio. Perry spent several years creating the cabinetry, furniture, and artwork throughout the house. His touch is evident in every part of the estate. His work is featured in exclusive galleries around the islands and his commissioned pieces, such as those featured in this home, are in high demand. Just having his logo on your cabinetry is a sign of excellence in the art of wood working. His pieces continue to escalate in value and are in high demand.
Off the entrance room is one of Perry's first challenges, an all Koa powder room. Even the sink is made of Koa. It is both a room of warmth and exquisite artistry, the perfect place to let your guests know just how much local art is a priority in your home.
As you enter the home you will find that it opens into an emerald green space outdoors. While the home is on 14.5 acres, it also looks across to an amazingly beautiful rainforest conservation area over the Kawainui River, resplendent in palms and foliage and with a restorative tumble of waterfalls below. The sound of water and birds completes the ambiance of Kawainui Estate's charms.
While we are talking about the outdoor spaces around the main house, we must include a beautiful natural stone multi-level infinity pool with waterfalls and pools. From here, there is also a Tiki lounge over looking the river. The lounge is screened-in and has a fantastic view of the waterfalls below. It is a great place for cocktails and parties.
Among the outdoor amenities are luxurious grounds and a second more traditional "blue" pool, just steps from the master bedroom with a secluded landscaped lanai.
Back inside the house you will find a master suite that is as large and luxurious as a small home, complete with office, sitting room and library. With walls full of custom cabinetry and a fully draped bed, touches of luxury are evident everywhere.


The master bath is spacious and well appointed with custom Koa cabinetry and a deep soaking Japanese bath, as well as a huge shower area and a massive walk in closet.
In the kitchen and dining area there are custom Koa cabinets which include a Sub Zero, dishwasher and ice maker covered in Koa. Ample countertops blend in well with walls of windows overlooking the Pacific. There is a custom Koa table embellished with a giant pineapple. A dining lanai with an ocean view completes this very special kitchen.
A huge walk in pantry is a big plus, as is the ample laundry room, which opens onto the breezeway leading to the guest quarters.
The Tea House was meticulously created with authentic detail.

It is a one bedroom guest house integrating custom Soji screens and a multitude of cabinets in the full kitchen designed by Perry Policicchio. Perry also built antiqued gates to the Tea House, which makes it seem as though it is ancient. It is a delightful traditional space surrounded by exquisite Koi ponds, bonsai and gardens with unobstructed ocean views of Keaukaha Point.
There is also a free standing spacious 2 bedroom, 2 bath guest quarters adjacent to the garage.
The massive grounds include acres of macadamia nut trees, avocados, rambutan, bananas, citrus and papayas. There is a large barn and storage facility next to the state-of-the-art tissue culture lab for orchids and other exotics, as well as a fully functional adjacent green house and lath house space. There are also dog kennels near the green house.
Take a virtual tour of Kawainui here:
If you would like to make an appointment to view Kawainui Estate, call Kelly Moran at Hilo Brokers 808.969.9400.