HERE ON THE BIG ISLAND
By Kelly Moran
Makai or Mauka?
Would you rather live by the sea, or on a hill?
On a coral atoll, everywhere you could possibly live is close to the ocean; but on a high island like Hawaii, you can live so far from the water that you might not even see it! Everyone who has the choice is either a makai (seaward) or a mauka (uphill) type. Which are you?
Living makai is what most people probably imagine, when they contemplate moving here. It's almost stereotypical: swaying palms, seashells at your feet, that bracing salt air . . . . Being right on the water, or close to it, gives you the calming sound of the surf, and those cool breezes that are so welcome on hot days. Actual ocean frontage, of course, is typically the most expensive land. But sea views – from anywhere – are always in demand, and the greater the expanse of ocean you can see, the more desireable will be that property.
Just remember that, unlike the older Hawaiian islands, the Big Island has very few sandy beaches, and no one with an oceanfront lot has a truly "private" beach. By law, property owners have to provide – or at least not block – access to their section of the shoreline from the ocean or from the adjacent coast, and the public is entitled to be there, to swim, fish, etc., right up to the high-water mark. That said, though, since most of our coastline here is rocky – some of it actually being sea-cliffs a hundred or more feet above the water – there isn't too much foot-traffic along most of our shores.
If there's a down-side to living on the ocean, it's the ocean itself. Salt spray fogs your windows, and leaves a crust on your furniture and clothes; it will also wreak havoc with unshielded electronics. Building-codes are particularly restrictive at or near sea-level, too, because your house is vulnerable to damage from storms, and (it must be said) from tsunamis.
Still, here are some potential makai properties to consider:
40's Vintage Plantation Home with Million Dollar Views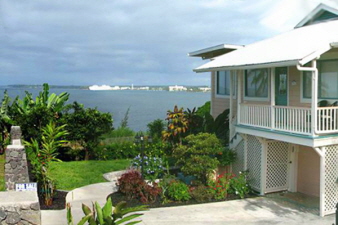 Architectural Masterpiece with Private Beach on 13 Acres
*Virtual Tour*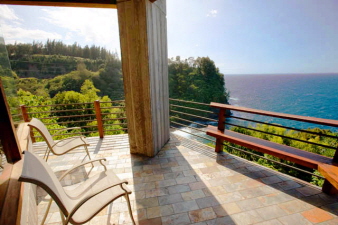 Rare Hilo Oceanfront Estate
*Virtual Tour*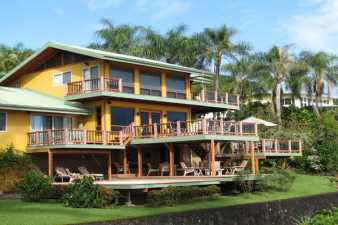 2 Oceanfront Acres with Panoramic Coastline Views
*Virtual Tour*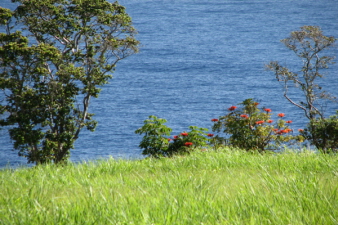 Oceanfront Paradise! Over 1/2 Acre, Panoramic Bay & Kaloli Point Views
*Virtual Tour*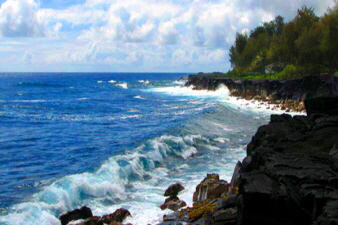 What about living mauka? Land uphill, even with a distant ocean view, is typically less expensive than property of the same size close to the water. And mauka lots are generally bigger, too, so you may have more privacy. The temperature drops approximately three degrees (F) for every 1,000 feet of elevation, so summer days will be a little cooler, no matter how high up you go; and winter nights, if you're in, say, Waimea or Volcano, can be be quite chilly – though quite a few houses there will have thicker walls and possibly even a fireplace.
If you want to live in the woods, you'll have to be uphill, where there is a greater variety of trees that also grow taller and closer together than they do near the ocean. Maybe you prefer the wide-open spaces: the farm- or ranch-lands are all uphill. Many mauka parcels are almost flat, especially if they were formerly used to grow sugar cane; they can serve as a "blank canvas" on which you can create your own landscape from scratch.
The down-side to mauka living is mainly about distance: everything is a car-drive away: the beach (of course!), but also movies, festivals, and shopping. If you have to commute to work, and especially if gasoline stays as expensive as it is right now (over $4 a gallon), living uphill will be a bit costly.
Nonetheless, there are some wonderful mauka properties available, right now:
Panoramic Ocean, Mountain & Stream Views – 6 Acres
*Virtual Tour*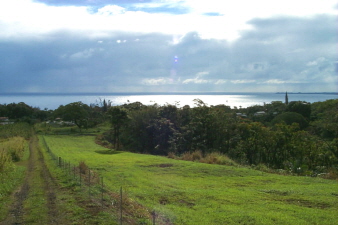 Cozy 2BR Home on 7.9 Acres – Private & Serene
*Virtual Tour*
Diversified Ag Business with Home on 20 Acres
*Virtual Tour*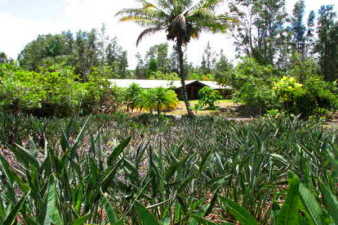 8.3 Acres – Panoramic Mountain, Ocean and Hilo Bay
*Virtual Tour*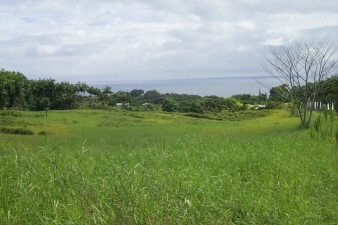 So wherever you choose to life, you'll certainly agree that there's no place like home on the Big Island!